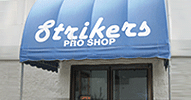 Strikers Bowling
Pro Shop
757-468-6195
Bowlers of any skill level can see how different Ebonite-brand bowling balls will react on a virtual lane, before the ball is drilled. Your bowling ball stats and personal release stats are added to the virtual lane condition, and the software displays a precise prediction of how the bowling ball will react. This can greatly reduce your uncertainty about which Ebonite brand bowling ball will work for you.
The software can also be used to great advantage along with Strikers' bowling instruction as a fine-tuning instrument for improving accuracy and understanding of release techniques.

Strikers Pro Shop is here for everyone.
You deserve to be a better bowler. ®