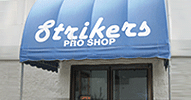 StrikersBowling
Pro Shop
757-468-6195
Contact Here
Why You Should Consider Getting
Bowling Instruction
Anything worth doing at all is worth doing well. You hear it all the time . What better way can you think of to improve your game than personalized Certified Instruction in a one-to-one environment. Maybe some frame-by frame Video Analysis could improve those 'little hitches' in your swing or step.
Strikers Bowling Pro Shop is very pleased to have IBPSIA Advanced Certified Technician and USBC Silver Instructor Danny Mausolf on staff , as he helps Strikers to bring valued bowling ball drilling services and bowling lessons to every level of bowler in the Virginia Beach / Tidewater area.
Try Having a trained instructor who is regularly out there helping bowlers learn to figure out lane condition changes, timing issues, how to slide, or how to hook a ball. Get your ball to fit properly. Learn the importance of a pre-shot routine.
I.B.P.S.I A. Lead instructors Mo Pinel, Fred Borden, Palmer Falgren, Gary Parsons and others have shared their insights with Strikers Pro Shop personnel to put a fresh edge on our understanding of bowling ball motion, and the techniques used to apply this new technology.
A bowling pro shop with employees professionally trained in the arts and techniques required by today's enthusiastic bowlers is a pro shop worth visiting. After all, a knowledgeable and confident athlete is a tough one to beat.
Our employees gain the greatest reward by adding to that knowledge and confidence by adding the latest in equipment, information and training to support your game.
Strikers Pro Shop is her for everyone.
You deserve to be a better bowler. ®